Welcome to The Christian Gift Company
Receive FREE entry to CRE Sandown 16-18th October by using this button. Just fill in the form and receive your free ticket(s) courtesy of The Christian Gift Company.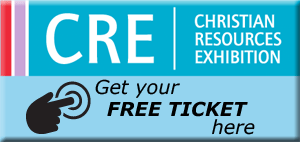 Hello, welcome to The Christian Gift Company - The UK's number one on-line retailer of quality Christian gifts! We supply a fantastic range of beautiful, practical and contemporary Christian themed gifts for men, women and children, including jewellery, stationery, art, home décor and prayer and devotional items. All gifts and cards are carefully selected by us from a wide number of suppliers and some are made exclusively for The Christian Gift Company. Our prices range from 75p for a bookmark to around £100 for exclusive silver and gold jewellery, so there is something for everyone.
We offer products that are ideal for every special occasion be it Christmas, birthdays, baptisms or weddings, as well as every day gifts for yourself or to encourage a friend. So do 'come in', take a look around and place your order - either online or phone us on 01189 835184 if you prefer!
To make a purchase on the site you can use Paypal, debit or credit card or make a bank transfer.

We would love to know if there is something you are looking for that we currently don't sell and you think we should! Also, please do let us know if you have a deadline date for delivery of your order in order to avoid disappointment.